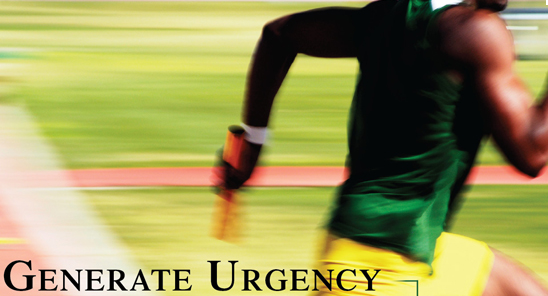 I was inspired to write this prior to the Pittsburgh Steelers football game last Sunday against the Cincinnati Bengals.  I was worried.  The Steelers had shown no "sense of urgency" during the prior week against the lowly Kansas City Chiefs and almost lost.  "They cannot afford to do that with Cincinnati, " I worried, "Coach Tomlin better find a way to inspire a sense of urgency."
Bringing a "sense of urgency" to every one of the sixteen regular season football games has got to be tough.  It must be easy to get a bit complacent, day in and day out, when it is not one of the biggest games of the year.
The same goes for the rest of us.  How can we remain inspired, with a sense of urgency and focus – day in and day out – and how can we inspire that in others?  Here are some ideas I have found to be helpful.
FOR YOU: 
*First, if you don't have one already, write a personal mission statement.  Make it simple.  Just answer the questions:  At this point in your life, what is the difference you want to make in the world and why is that important to you?  Don't overcomplicate it.  It is not written in stone, and you can change it in the future if you want.
*Next, create a new routine to take five minutes early every morning to review your mission statement, to think about your day ahead, and focus on how what you are doing connects to your personal mission.  Remind yourself of the important opportunity you have to make a difference each day.
*Ideally, you would build on this routine and add some specific goals for the year, quarter, and week that you see connecting to the mission and you would review those as well.  I do this nearly every morning as a part of my meditation time and it helps me focus.  I think of it as Rebooting Rob.
FOR YOUR TEAM:
*Suggest the above routine with your team (just forward this blog to them).
*Next, make sure every person on your team understands how their specific set of work responsibilities connects to the mission of your organization and helps make your collective organizational Mission Impact.
*Finally, add an agenda item to your regular staff meetings.  When I was CEO at LeaderShape, someone on the staff suggested that we make "Mission-Vision Updates" the first agenda item for our weekly staff meetings.  The idea was to encourage people to think of something cool that had happened in the past week that was a tangible example about how we were making a difference.  We are all so busy working, working, working that we often don't take the time to appreciate the difference we make.  This was a nice way to call a "time out" and reflect on that.  Also, it made each of us more aware of those moments when they happened – "Hey, this will be a cool thing to share on Monday morning."
Even the most dedicated, committed person can lose focus and their sense of urgency from time to time.  Use these ideas to help you and your team focus and make even more of a Mission Impact.
S.Yes – the Steelers did play with a "sense of urgency" last Sunday and Coach Tomlin even used those words in his press conference after the game.  Now if we can just bring it again with the Cleveland Browns tonight that would be great!