Mission Statement Mini-Case.
Recently, my friends in the Office of Career Services at the Smith School of Business at Maryland asked me to do some strategy work with them.  The first thing we reviewed was their mission.
Here is the Mission exercise I take organizations through:
*AIM:  Specify exactly what "persons, places, or things" the organization aims to impact
*IMPACT:  Specify the difference your organization intends to make in the condition of those your organization is aiming for.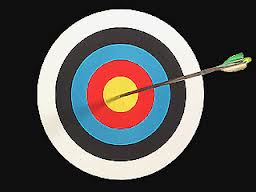 We did this exercise in small groups at a retreat and they came up with lots of "Aims" – students, faculty, employers, alumni, staff, and more.  And they came up with lots of "Impacts" for the different "Aims."  It provided a good start to work we then did with a sub-group.
I pushed: "What are your priority 'Aims?'"  They pretty quickly identified students and employers.
"What are the most important 'Impacts' you want to make on each?"  We started with students and they came up with a long list of impacts they want to make.  "What's most important?  What most inspires you?"  After lots of good discussion, here is what they came up with:
"To provide students with transformational experiences that launch extraordinary career journeys."
I thought that was pretty cool – I want all of our students to be launched into an extraordinary career journey!
What about employers?  They were in a groove and came up with this pretty quickly:
"To partner with employers to infuse talent pipelines with exceptional Smith Terps."
Another great one!  (FYI that we are the Maryland Terrapins, "Terps").
These two statements now make up their mission.  One of the things to underscore about each of these statements is that it goes beyond helping a student find a job or helping an employer fill a job vacancy.  The group really dug deep to ask themselves what inspired them and identified far-reaching "impacts" that really enthused them.
Need to give your mission statement an overhaul?  Start with getting specific about your "Aim" and then on what "Impacts" really inspire you.  Focusing your team on Aim & Impact will, indeed, allow your organization to make an even greater Mission Impact.