#1 – Do you have a written professional development plan?
#2 – Do you update it at least annually?
#3 – Does your plan include specific measurable learning goals that you are committed to achieving during the coming year?
#4 – Does your plan include developmental opportunities that you are actually looking forward to?
#5 – Do you have a method of regularly collecting feedback from your peers, direct reports, and supervisor to get other perspectives on your performance?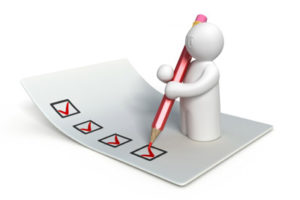 If you can answer YES to these five questions, bravo!  If not, it is time to get to work.
I could make a much longer list, but this five question check-up covers 95% of what you should be thinking about if you are serious about making sure that you are consistently developing yourself for higher performance.
Take the initiative in creating your professional development plan.  Don't rely on formal organization processes – especially if you are a CEO.
And if I could add a sixth question it would be:  "Do you have an executive coach?"  I know that expense is involved, but more and more professionals – at all levels – are retaining executive coaches.  Just make sure you do your research and interview potential coaches carefully.  These days anyone can call themselves a coach, but may not have the background and experience you need.
Make sure to keep yourself sharp through continued professional development and you will make even more of a Mission Impact!