I have made a big deal out of the importance of setting goals, rather than new year's resolutions -- both in my blog and in the column I wrote for The Washington Post (click here to read it).
To fully understand how to effectively set goals, please read my new article The Power of Goals which you can download here at no cost.  It is a fourteen page quick read that gives you the essentials for effective goal setting.
But how do you get started if, for example, you want to create annual goals for yourself?
Here is what I suggest.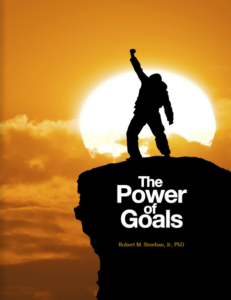 Start by identifying the "domains" of your life that are most important to you and create an "ideal vision" for yourself.  For example:
*What do I want my health to be like ideally?
*What do I want my social life to look like ideally?
*What do I want my family life to look like ideally?
*What do I want my work life to look like ideally?
*What do I want my spiritual life to look like ideally?
You get the idea.
Set these ideal visions for your life and then step back.  Set at least one goal for yourself for each area of your life for the coming year.  Make sure your goals are SMART (read The Power of Goals to understand more).
Break your annual goals down into quarterly goals and then create action plans to achieve them.  Monitor your performance regularly.
I don't mean to oversimplify.  Setting these visions and goals for yourself is obviously just the beginning.  But it is a very important beginning.  You can then begin the hard work of implementing your goals built on a firm foundation.
Use these ideas, and the guidelines in The Power of Goals, to plan out a fantastic 2013 for yourself.  May the coming year be your best ever!