The cover story of the March issue of Harvard Business Review* is focused on Work-Life Balance, which – the executives surveyed by the authors – consider either a myth or elusive ideal.  However, through the research these authors conducted of senior executives, some helpful ideas emerge.
The overall theme of the research is that we each need to own making choices around our priorities and not fall into a "victim" mentality about our lack of time.  Also, achieving "balance" day in and day out may, in fact, be a myth.  We can get closer to balance when we pursue it over a period of months or years.  Here are some of my other key takeaways: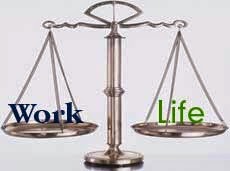 *Define Success for Yourself.  Choose what success looks like for you in the various important areas of your life and don't be swayed with definitions that others use.  What does it mean to you to be successful at work or as a parent or as a partner or a friend?
*Create Support Networks.  Communicate your picture of success to those closest to you at work and outside work.  This could mean trusted colleagues at work who can be allies as well as friends who can provide emotional support or even pitch in when you are in a bind.
*Manage Technology Wisely.  Or it will manage you.  Train your various environments on what their expectations should be about how "plugged in" you are when you are at work, during the evenings, on weekends, and on vacations.  Clearly communicate this and then make sure to follow the behaviors you told people to expect.
*Collaborate with Family/Friends.  Make sure that those closest to you personally understand what success looks like to you, ask them to help you build your support networks, and make sure they understand how you are managing technology.  The Harvard research showed that those who had enrolled their families and friends with their pursuit of a balanced life were much more satisfied with their situations.
Unexpected challenges face us all and can knock whatever "balance" we have out of whack day to day or even over a period of weeks.  But if we take a long view and are clear about our priorities and choices, then we can all get closer to that elusive ideal of a balanced life.
*"Manage Your Work, Manage Your Life," Boris Groysberg & Robin Abrahams, Harvard Business Review, March 2014, pp. 58 – 66.