My last blog told you to shorten your "to do" list.  And now I am suggesting that you add "nothing" to your calendar???
Originally this blog was going to be called "The Importance of Reflection, " but I decided the new title might get your attention better.
Here is what I am specifically suggesting:
*Block thirty minutes of time now for doing nothing each day.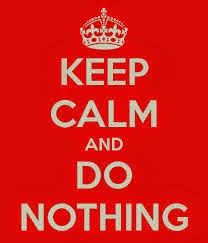 I don't mean thirty minutes to catch up with email.  I mean doing nothing – except to spend a few minutes reflecting.
Why?  We are all too busy.  We are doing, doing, doing all day long and do not take regular time to actually reflect.  This makes us lose focus and, sometimes, rush important decisions.
Some things to reflect on:
"What do I need to give my most focused attention to in the next twenty-four hours?"
"How have the last twenty-four hours gone?"
"What important things have I learned in the last twenty-four hours?"
Your answers can span your work and personal life.  On some days the most focus you need for the future may be helping your daughter with her homework that night and on others it will be that report you need to give to the board of directors tomorrow.
If it helps you to write, then journal.  Otherwise, just take some unstructured time to think and reflect.
Try it a few times to see how you like it.  If you see the value then automatically block a certain time of the day where you schedule no meetings and then protect the time vigorously.
Taking the time to reflect makes us more thoughtful, effective decision-makers and leaders.  And that helps you make more of a Mission Impact.