This is the final installment of a five part series on high performance teamwork, based on the book,  The Five Dysfunctions of a Team by Patrick Lencioni.  The five major dysfunctions that Lencioni has identified, which is backed up by research are:
*Absence of Trust
*Fear of Conflict
*Lack of Commitment
*Avoidance of Accountability
*Inattention to Results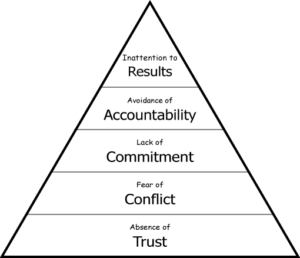 The first four steps of building a high performing team are vital, but so many teams falter with Inattention to Results.  The key reason is connected to the fourth dysfunction – Avoidance of Accountability.  Once people are convinced (or told) that they need to be accountable, most will want to be accountable only for activities, not results.
Here is how to fix this dysfunction: insist that everyone on your team set Outcome-Based, SMART Goals.
Outcome-Based.  Goals should be set in a way that they describe the important result that you want to produce – the outcome, not the activities you hope will produce the result.  Once outcome-based goals are established, then you can set activity goals that are connected to them.  To convert activity goals into outcome goals, ask yourself "to what end" are we doing these activities.
SMART Goals.  You can read more extensively about this in my brief article, The Power of Goals, but goals need to be Specific & Measurable, otherwise you don't really know if you are making progress.  They need to be Relevant to the most important aspects of the Mission.  And they need to be Time-Bound – there must be a date attached to the goal.
All you need now is the right "A" to spell SMART.  Some people like "Attainable" goals so they can assure themselves of success.  Others like to push themselves and set "Aggressive" goals.  And I like to encourage people to set "Almost Impossible" goals which help produce breakthroughs in performance.  Any of the "As" can work – they just need to fit your situation.  Again, I encourage you to read more about these options in The Power of Goals article.
Effective teamwork is vital for the success of any organization.  By applying these five aspects of high performance teamwork, you can tap into the talents of your team and lead it to ever higher levels of Mission Impact.