HQCs = High Quality Connections
If you want a workplace in which:
*Individuals are thriving
*Teams are more effective
*The overall organization performs at a higher level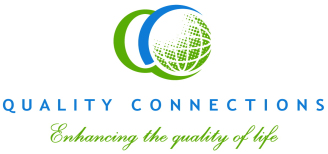 Then you should consider encouraging more High Quality Connections among those you work with.  Ground-breaking research by University of Michigan professor Dr. Jane Dutton* and others demonstrates that HQCs in the workplace have these positive effects.
How can you create HQCs in your workplace?*
*Convey Presence.  Fully engage with a person when you are talking with them.  I know one executive who has started closing his laptop when people stop in to meet with him to help him be less distracted and send a message that he is fully present in the moment.
*Be Genuine.  Show people that you care about them in a genuine, heart-felt way.  You can't fake sincerity, so seek to bring your authentic self to every work interaction.
*Communicate Affirmation.  Acknowledge the positive contributions of team members when you have the opportunity.  Expressing appreciation costs nothing yet is worth gold for people.
*Listen Effectively.  Be responsive.  Close out distractions.  Practice Active Listening and ask people if they feel as if you have heard them.
*Supportive Communication.  How we say things matters.  We can express our views without being defensive and use a supportive tone.  Communicate clearly without baggage.
People want a workplace that is vibrant and supportive, not corrosive!  When we utilize more of these HQC producing behaviors, we are building a more resilient workplace and making more of a Mission Impact.
*Dutton, J.E. "Fostering high quality connections through respectful engagement."  Stanford Social Innovation Review, Winter, 54-57, 2003