The last days of summer are speeding by, but there is still time to pick up a book for that final summer read at the beach or pool this weekend.  And I recommend The Alchemist by Paul Coelho.
The Alchemist is an oldie, but goodie that I finally got around to reading recently.  It is a fable of a young man who goes in search of his destiny.  The Alchemist he meets in the story does not teach him how to turn lead into gold, but instead how to turn dreams into reality – which is golden in its own way.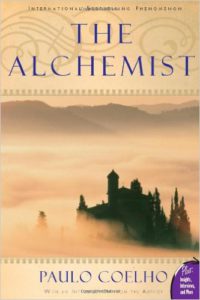 A few of my favorite passages:
*At one point the young man was robbed of everything he had and was totally penniless.  "As he mused about these things, he realized that he had to choose between thinking of himself as the poor victim of a thief and as an adventurer in quest of his treasure.  'I'm an adventurer, looking for treasure,' he said to himself."  We are all adventurers on our various quests.  The young man chose to focus on the vision of his future quest rather than his temporary misfortune.
*As the young man's pursuit of his quest continued, he wondered if its achievement was impossible.  The Alchemist counseled him that "There is only one thing that makes a dream impossible to achieve: the fear of failure."  And he encouraged the young man to focus on the passion for his vision, his Personal Legend.
*Later, the young man realized that there was a significant chance that he could die in the pursuit of his vision.  Again, the Alchemist counseled him "Then you'll die in the midst of trying to realize your Personal Legend.  That's a lot better than dying like millions of other people, who never even knew what their Personal Legends were."  This reminds me of that great Helen Keller quote: "Life is either a daring adventure or nothing at all."
Did the young man achieve his vision?  I can't reveal that, but I can tell you that he learned many lessons that you will enjoy reading about.  If we passionately believe in our visions with all of our heart, magical things can happen.  Enjoy The Alchemist!