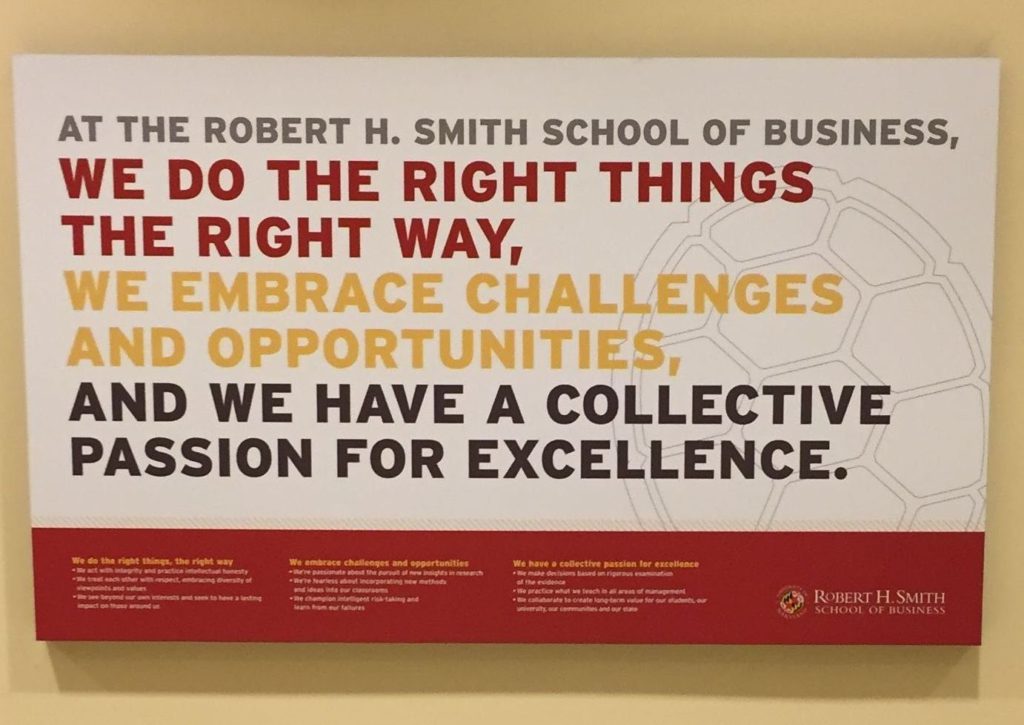 We know that mission, vision, and values are core to the identity of any organization.  And I often tell leaders that one of their most important responsibilities is to keep these in the forefront of their coworkers minds.  But how do you do that?
Recently, Dr. Alex Triantis – our Dean at the Robert H. Smith School of Business at the University of Maryland – had our marketing/communications and facilities teams work together to post our Mission and Values on nice big signs at the front entrance of our building, right by the elevators.  They have been there for a while now, but the other day I realized how much I liked them there.  What better things to look at to help you focus as you begin another day at work!
Our values include:
*We do the right things the right way.
*We embrace challenges and opportunities.
*We have a collective passion for excellence.
How can you not get fired up looking at that first thing in the morning!?!
And our mission includes the phrase "We equip current and future leaders to assess complex problems and deliver innovative solutions."  I tell our EMBAs that we expect them to be Innovative, Impact Leaders.
You can read more about our mission and values at this link.
What can you do to help keep your mission, vision, and values in the forefront of people's minds in your organization?  Big signs may not be the answer for everyone.  But there are ways – big and small – that you can help keep the importance of your Mission Impact alive for people.  You are only limited by your creativity.