"We cannot fundraise our way out of government cutbacks!!! Board members whose organizations serve low income and disadvantaged populations must advocate for the clients they serve."
–Chuck Loring, BoardSource Senior Governance Associate & Senior Partner; Loring Sternberg, Associates
Chuck Loring is an expert in Board Governance and Fundraising.  He is a former nonprofit CEO and a leading nonprofit consultant (full disclosure – he is also a friend).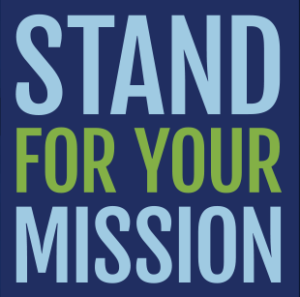 I think that Chuck's words here are a rally cry for every Board member of every nonprofit organization in America.  And, in fact, he is part of a real rally.
The rally is called Stand For Your Mission.  It is a campaign which calls on all nonprofit decision-makers to stand for the organizations they believe in by actively representing their missions and values, and creating public will for important policy changes.  It is a collaborative effort initiated by the Alliance for Justice, BoardSource, the Campion Foundation, the Forum of Regional Associations of Grantmakers, the Knight Foundation, and the National Council of Nonprofits, the campaign seeks to unleash the full potential of nonprofits to advance their missions by engaging board leaders more directly in the advocacy work of their organizations.
Some of the goals include:
*Bring about a sustainable shift in the understanding and expectations around board engagement in advocacy
*Move advocacy from an ancillary to an essential role for all board members
*Strengthen our collective ability to advance the public good
Check out their web site and see how you and your Board can be involved.  We all need to be even stronger advocates for our causes regarding public policy so we make even more of a Mission Impact.