THE IDEA:  While optimism is a very helpful attitude for success, research shows that it needs to tempered at times.
The field of positive psychology, with leaders like Dr. Martin Seligman, has demonstrated that an optimistic attitude can lead to higher levels of success for people in a wide variety of activities.  In fact, Seligman and others have developed training programs that can actually help people become more optimistic and successful.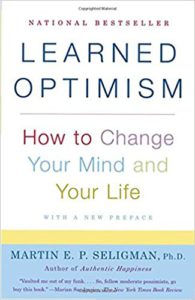 But can optimism go too far?
Yes. And this is where "flexible optimism" – a term Seligman invented – comes in.
Essentially, the most successful optimists understand they need to be careful when they are pursuing a big goal with a lot of risks.  They talk with others – especially natural pessimists – to see what risks others see in the potential course of action.  Then, either they decide not to pursue that course of action or they go into it well informed – and prepared to handle possible setbacks.
Once upon a time, I had a friend who was pursuing a risky goal.  Things were not looking good as he got very close to the deadline and I asked him, "What are your back-up plans if this does not work out?"  His response: "Failure is not an option."
On one hand, I appreciate that attitude.  But, in this case, he did fail.  And then he and his team needed to scramble to figure out what to do while they were very stressed out.  Their response to the setback would have been much more effective if they had time to calmly think through their options before the panic of the failure was upon them.
Once we take the time to carefully assess the risk of a goal we may dial back our ambition.  Or we may go for it – fully informed and prepared to live with the consequences of not making it all the way.
Acrobats who perform death defying high wire acts without a net may provide more thrills for audiences, but the ones who use nets live longer.  The same is true for leaders who want to make a Mission Impact.