The cover article of the new March – April edition of Harvard Business Review* is on Better Brainstorming and includes a number of interesting ideas.  It's written by Hal Gregersen, who is a faculty member at MIT and author of a forthcoming book, Questions are the Answer.
Gregerson has invented a process he calls "Question Burst" which focuses the brainstorming process on generating questions that are central to a problem or opportunity, rather than answers.  In his consulting work with major companies, he has found this method as a better path to solutions.  Here's a summary of the process: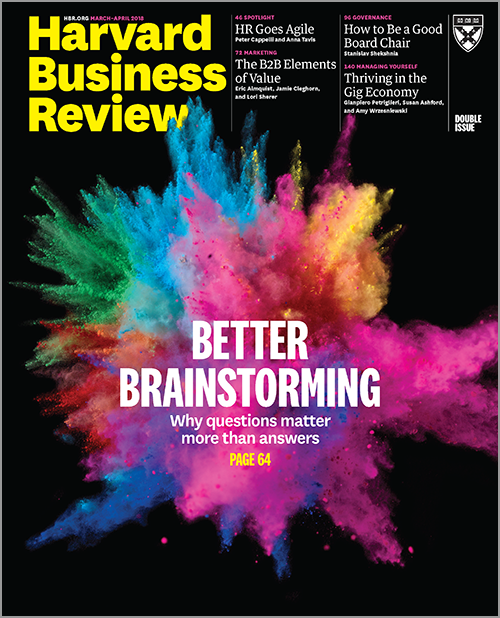 1. Set the Stage. First, invite just a few people to participate in the process and give them a very brief summary of the problem or opportunity that you are thinking about.  Try to invite people who may have different perspectives from you and one another.
Rules of engagement: people are only allowed to list questions, not solutions, and they are just to state the question – not provide a long justification/explanation.
2. Brainstorm the Questions. Set a timer for only four minutes and challenge everyone to get as many questions out as possible in that limited time – aim for at least fifteen good questions.  Focus on quantity.
Invite a couple more small groups to do the same exercise over a few more days.
3. Identify a quest – and commit to it. After some time, identify the questions that you feel frame the problem or challenge the best and then set out to solve the questions.  Gregersen says that doing this activity over time can help people become better at asking questions, which is vital to innovation.
Of course, the key is follow-up and really focusing on making sure you get your answers to the key questions.
It sounds like an interesting exercise worth trying.  Good luck at asking great questions and having successful brain hurricanes that lead to innovative Mission Impact.
*"Better Brainstorming," Harvard Business Review, March – April 2018, pp. 64 – 71.