Developing your self-awareness has long been thought of as a key to improving your leadership capability.
Self-awareness is valuable because if you understand yourself extremely well then you can choose the appropriate effective behaviors to fit the situations you find yourself in.  Without understanding yourself, you act on your natural "tendencies" which might not always be a good thing.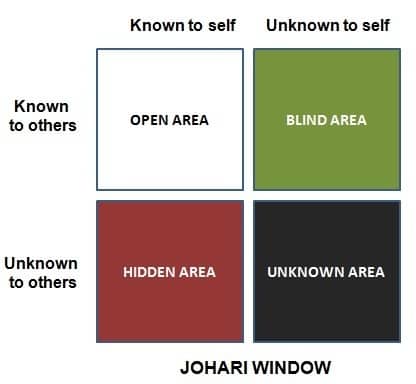 A simple tool that many people use to work on self-awareness is the Johari Window* which is made up of four quadrants.  The ideal is to have a perfectly "clean" window in each quadrant so you can understand yourself from each area.
*Open Area:  This represents characteristics that you know you have – and so do others.  You are quite up front about it.
*Hidden Area:  This area represents characteristics that you are not very happy about sharing with others.  Maybe you don't like sharing how nervous you get while public speaking.  Or maybe you are not very good at some aspect of your job.  You know it and would rather just keep that to yourself.
*Blind Area:  This area is a gold mine for improving your self-awareness.  This represents things that other people know about you but you do not realize about yourself.  For example, do you know that you talk waaaaaay to much in team meetings?  Well – everyone else does and that's part of the reason some people don't pick you to be on their team.  If you only knew this, you could work at changing!
*Unknown Area:  This area represents aspects of your behaviors that are unknown to you and others – connected to internal motivations, for example.  It remains a mystery to most people.
The first place to start in developing more self-awareness is the Blind Area.  Ideally you would participate in a 360 evaluation which would collect input from a good number of your supervisors, peers, and direct reports.  A good 360, especially when debriefed with an executive coach, can "clean up" that Blind window and give you a number of issues to work on to improve.  This is an important part of our Executive Coaching program within the Smith School of Business Executive MBA.
If you don't have access to a 360 survey, then select a few people you trust and tell them that you are working on your leadership capability.  You would really appreciate their input.  Tip: they will be more likely to share their thoughts with you if you are vulnerable enough with them to share some of your Hidden area.  If you can say "I am working on my public speaking because I get really nervous, I don't know if you ever noticed," then that could help.
The Unknown area remains a mystery unless you take some psychological assessments that may provide unique insights.  We use a number of these in our Executive MBA coaching program and they can be revelationary.
Great leaders always want to get better and continuing to develop your self-awareness is a key way to do that!
*The Johari Window was created many years ago by psychologists Joseph Luft and Harry Ingham (get it – the "Joe & Harry Window").