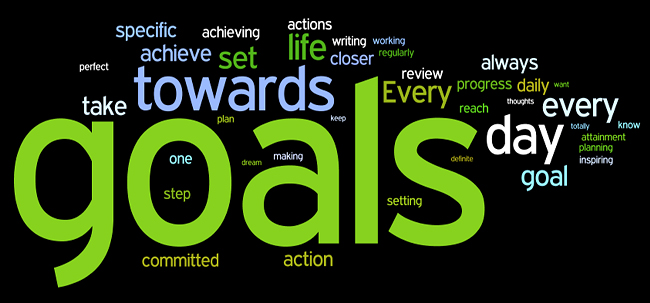 Admittedly – I'm a goals addict.
Not only does extensive research show that setting specific, hard goals leads to higher performance, I have seen it play out in my own life.  Setting goals gives me a lot of fulfillment in life as it focuses me on my priorities and helps me accomplish things I care about.  I set goals for all the important dimensions of my life.
New Year's Day – the classic time for setting annual goals – will be upon us before we know it.  Before the holiday rush kicks in and you don't have time to thoughtfully consider the kinds of improvements you want for your life in 2019, I encourage you to start thinking about your annual goals now.
Maybe you have had mixed results with annual goal setting.  If that is true or if you are somewhat new at setting personal goals, I suggest that you start out slowly.
Pick two or three areas of your life where you would like to see some improvement.  And then set just one goal for each of the two or three areas for the year.  And don't make them particularly hard goals.
Starting out this way will give you a chance to build the habit of focusing on and accomplishing goals.  It will help you build momentum.
If you get half way through 2019 and you are rocking away on your goals, then you can add one or two more.  Or you can increase the difficulty of one of the goals you have been very successful at.  If you successfully start going to the gym twice a week for the first six months of the year, then maybe try three times a week for the rest of the year – for example.
Setting and accomplishing goals can bring you higher levels of personal fulfillment, performance and satisfaction in your life.  Start planning now for your 2019 goals!