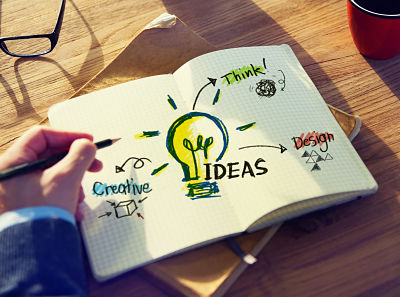 "Thinking outside of the box" is a difficult thing to do – especially when you have been ingrained within an organization or industry for many years.
Following are a few techniques to help us all "think different" which are from a recent article in Harvard Business Review.*  They are designed to help us identify possible strategic opportunities we had not seen before.
1.  Contrast: Challenge the Status Quo
*Identify the key assumptions that are a part of the typical thinking in your organization or industry.
*If one or more of them were incorrect, what opportunities might that create?
*Make some deliberate changes to how you do your work normally to see if you can identify assumptions you should challenge.
If you can find a way to successfully carry out your work following a different set of assumptions then this could lead to a strategic advantage.
2.  Combination: Link Disparate Products/Services
*Create brainstorming teams of people with very different backgrounds to look at possible combinations.
*Consider coordination of services outside of your organization; even with competitors.
This kind of creative thinking connected Nike and Apple; now Nike shoes track steps on an iPod.
3.  Constraint: Turn Limitations into Strengths
*List your "incompetencies" and brainstorm how they might be advantages.
*Purposely create some constraints for yourself to brainstorm new ways of doing things.
Maybe your small size makes you nimble and easy to change; maybe your inexperience can make you seem "fresh" to a market.  Channel your inner MacGyver.
4.  Context: Look for Solutions from Different Industries
*Create a focus group of people outside of your industry and explain your business to them.  Ask if they see different ways of doing things than what you are doing.
*Meet with people who have been leading users of your services and ask them what else they might dream of wanting from you.
Everyone used to know that you "had" to rent a car for a full day, unlike buying other services by the hour.  But now we have Zipcar, etc – not to mention bikeshares.
Strategy – by definition – is a creative act.  There is no right or wrong answer.  And there is no secret to coming up with the winning strategy.  But these techniques provide us an opportunity to look at our situations with unique lenses and spark creativity.
*Brandeberger, A.  "Strategy Needs Creativity," Harvard Business Review, March – April 2019, pp. 59 – 65.