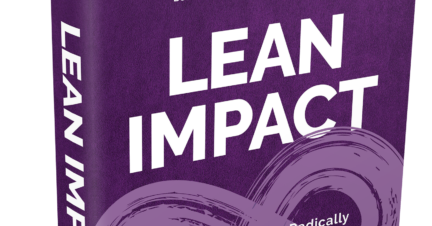 Lean Impact: How to Innovate for Radically Greater Social Good is a new book by Ann Mei Chang and I am pleased to highly recommend it.  The book takes general concepts from The Lean Startup, by Eric Ries, and applies them to the social sector.
Here are the three core guiding principles of the book:
*Think Big.  "Be audacious in the difference you aspire to make, basing your goals on the size of the real need in the world rather than what seems incrementally achievable." (p. 23)
*Start Small.  Create small experiments to test your ideas so you can learn and adapt quickly to changes that need to be made.
*Relentlessly Seek Impact.  Don't fall in love with your first idea on how to address a problem; it needs to be tested and perhaps changed.  Fall in love with the problem, instead, so you can be open to the best solution possible.
In discussing the principle of Thinking Big, Chang points out the importance of having proper metrics for aspirations: ". . . in the absence of a clear time frame or measure of success, how do we know if we're making enough progress?" (p. 28).  This is certainly consistent with the book Leap of Reason and another calls for the importance of accurate outcomes measurement.
Other great Thinking Big quotes include:
"The birth of innovation begins with a clear, aspirational goal.  This is the top-down vision of the change you want to create . . ." (p. 29)
". . . unclear and conservative goals are one of the root causes of inertia in the social sector." (p. 29)
". . . the purpose of aspirational goals is to stretch thinking and inspire." (p. 34)
All of this resonates especially for me as it is so consistent with the Mission Impact book.  For more on aspirational goal setting, see this article.
Stay tuned for the next two blogs which will focus next on Starting Small and then on Relentlessly Seeking Impact.