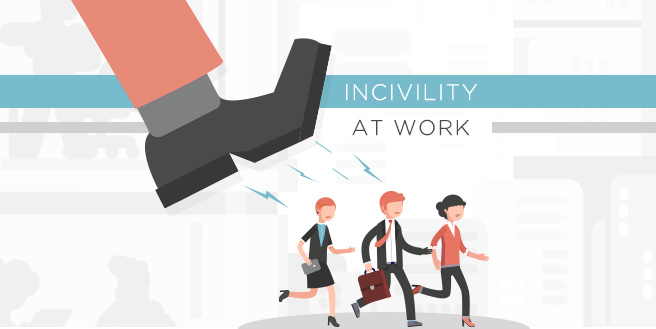 We have all heard (or experienced) stories of the "boss from hell," but – according to research reported in Harvard Business Review* – rudeness in the workplace is surprisingly common.  Whether it is thoughtlessness or outright malice, incivility takes its toll on a workplace.  A poll of managers and employees from a wide variety of industries who experienced this showed that:
*48% intentionally decreased their work effort
*38% intentionally decreased the quality of their work
*80% lost work time worrying about the incident
*78% said their commitment to the organization declined
*25% admitted taking their frustration out on customers
Here is what can you do, as a leader, to foster civility and keep yourself in check:
*Model good behavior.  As a leader, people are constantly watching you and what you do.  Make sure to be respectful, appreciative, and a model of ethical behavior.
*Ask for feedback.  Tell your team that you know you can constantly improve and ask for their input.
*Hire for civility.  Ask everyone who meets candidates to comment on their fit with the culture.  Be sure to look into the background of candidates to see if they have had a track record of incivility.  Sometimes this will take some extra effort.
*Teach civility.  You have to explain everything to some people.  A simple workshop on civility with examples of civility and incivility can make it clear to people.
*Create group norms.  Make civility a part of the culture.  Talk about it during interviews and orientation, for example.  "This is a great place to work.  For example, it is a place where everyone can count on being treated with respect."
*Reward good behavior.  Collegiality should be considered in performance reviews.  And if you witness bad behavior, address it immediately.  If the behavior continues, you may need to let someone go.
Just one habitually offensive employee – no matter how talented they may be in other ways – can corrode the organization and its culture.  The costs are very high.  Leaders need to be proactive in promoting civility and help build a culture of engaged, high performing employees.
*Porath, C. & Pearson, C.  "The Price of Incivility," Harvard Business Review, January – February 2013, pp. 115 – 121.