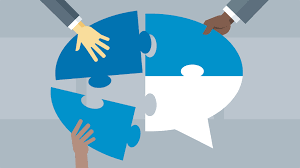 More than one enthusiastic new CEO has told me "I plan to announce my vision at our first staff meeting" (usually said with a grin – sort of like "announce my presence with authority").
My general rule is that I don't provide advice unless asked, and when I have been asked by a new CEO about this plan I have said "Well, you might consider holding off on that for a while."  The good ones ask me why.
The most powerful visions are shared visions.  In research reported in Harvard Business Review a number of years ago by leadership gurus Jim Kouzes and Barry Posner (January 2009), they stated:
"Constituents want visions of the future that reflect their own aspirations.  They want to hear how their dreams will come true and their hopes will be fulfilled . . .  The only visions that take hold are shared visions . . . And you will create them only when you listen very, very closely to others, appreciate their hopes, and attend to their needs."           
This does not mean that your ideas don't count.  You may have been hired because you shared some visionary ideas in your interviews.  You can share your ideas with others, but listen to what they think and feel as well.  Build upon your vision with their ideas.
Ask "If you could have it any way you wanted it, what would this organization look like and be like so we could accomplish our mission even more effectively.  What are your dreams?"
You will be shocked how infrequently people are asked this and how appreciative they will be.  The depth of their answers will inspire you.  As humans, we all have hopes, dreams, and aspirations.
If you go into your first staff and board meetings with an announcement of your new vision, you may get a nice reception.  After all, you are the new person and they want to be polite.  But don't be shocked if after a few months you are leading a parade with no one behind you.  They might be "okay" with your vision, but won't enthusiastically support it unless it is a shared vision.
Take your time if you are the new person.
"I certainly have ideas about our future, but I am new here.  I mostly want to listen first to what you all think so we can work together to create a future we are all excited about building together." 
That's probably enough for the first staff meeting.