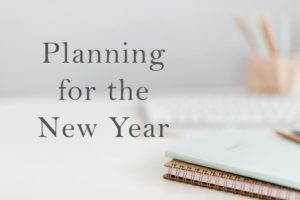 I'm a big fan of David Allen's Getting Things Done (GTD) approach. I've adopted many of his techniques.
Whenever I've connected with others about his work, almost no one has come across his fantastic Year-End Review set of questions that can be found here: Questions for completing and beginning the year
I've done this every year since he originally published it in 2012.
He has two categories of questions: Completing and Remembering Last Year and Creating The New Year.  A few of my favorites include:
"What was the smartest decision you made last year?"
"Who were the three people that had the greatest impact on your life last year?"
"What advice would you like to give yourself this coming year?"
"What major indulgence are you willing to experience this coming year?"
I've further developed on his original list and now create sub goals in each of my "categories" – which he terms as "areas" at the beginning of his original blog post. They provide a great primer for where you might start, but feel free to create your own.
Need another, simpler, idea?
A few other colleagues pick an annual word as their yearly theme. It provides them a simple reminder and focus throughout the year. Easy peasy. Just stick the word wherever you want to remind yourself regularly and make choices toward it.
Don't like new year's resolutions?
No problem. Remix it or hack it to work for you. Here are a few quick simple ideas:
Change the name: A good friend invited me to instead of making new year's resolutions, how about trying new year's revolutions? What would be revolutionary for you to start, stop or continue?
Change the time: if new year's resolutions seem trite or too bandwagon for you, then why not do the same exercise on your birthday? An anniversary? One of the solstices?
In the end, good leaders find that it's helpful at some point in the year to take stock of what happened, what they've accomplished, and what they want to do next.