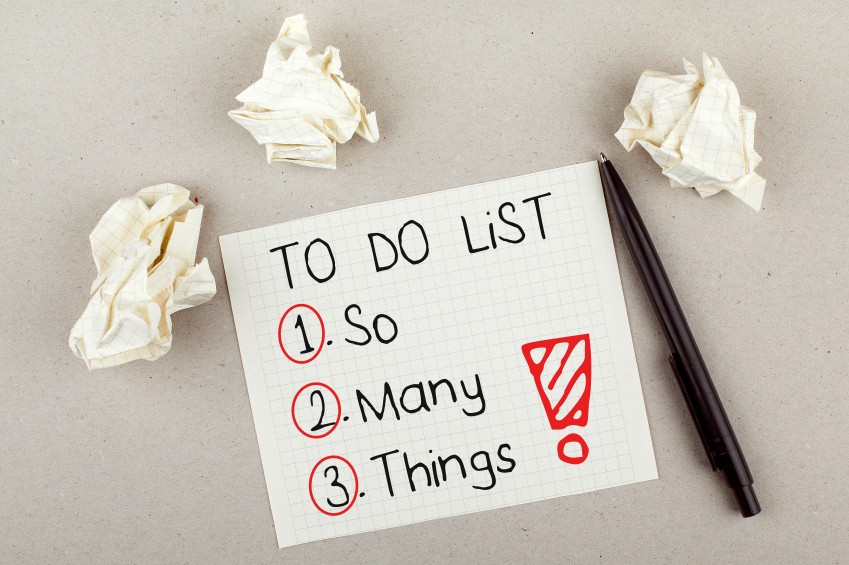 "Welcome to the Land of Magical Thinking."
That's my favorite quote from a recent article from Harvard Business Review about To Do lists.  And I am definitely guilty of this!
An out of control To Do list can create a lot of problems – including missed deadlines, doing low quality work, and tiring ourselves out from overwork.
If you want to tame your To Do list, here are some common mistakes from Magical Thinking Land that many of us make, according to the article:
*Underestimating our workload and saying Yes to more.  We all have TONS to do!  Yet, we often underestimate our future workload.  Here comes the Magical Thinking: "Oh, things will be better in a couple of weeks, I can do this extra project."  Watch out for this!
*Our desire to please others.  This mistake compounds the prior one!  When we already underestimate our future workload AND we want to please someone we can end up with lots of work we do not have time to do.
*Thinking "repeat projects" will go faster.  While we definitely learn a lot the first time we run a project, we often make the mistake of thinking that the next iterations will do much faster than they actually do.  Novel challenges always come up.  Make sure to add more time into repeat projects than you typically would.
*Not delegating because we think others won't do quality work.  One of our most important responsibilities as leaders is to develop other people so they can do quality work.  We can all probably delegate much more than we think.
One tip to add to this list that comes from Stephen Covey is the idea of identifying your daily Big Rocks – the most important things that you absolutely need to get done (check out the Big Rocks video).  I have gotten better at this over time and it helps a lot.  While I definitely need to cut down my overall list, at least I almost always get my Big Rocks done.
Good luck taming your To Do list!  For most of us, these lists are out of control.  These suggestions can help us make progress on the "taming" process.
*Ideas for this blog taken from: Nawaz, S.  "Be More Realistic About the Time You Have," Harvard Business Review online, March 23, 2021.