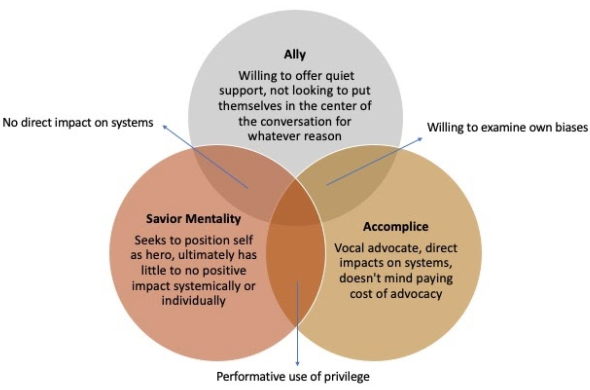 The most recent blog encouraged people to read the book, I'm Still Here: Black Dignity in a World Made for Whiteness, as a way to learn more about the lived experience of the African-American female author, Austin Channing Brown.  I stated that our world needs more "radical empathy" as I referenced this quote by Isabel Wilkerson, author of the book Caste: The Origins of our Discontents:
"Radical empathy, on the other hand, means putting in the work to educate oneself and to listen with a humble heart to understand another's experience from their perspective, not as we imagine we would feel."

Reading books is a good way to begin developing more "radical empathy," but  – as per this article from two years ago in The Washington Post, more needs to be done:  "When black people are in pain, white people just join book clubs."
In the church book group I mentioned in the last bog, our co-facilitator (Milli) shared a Venn Diagram with us that compared/contrasted: Allies, Accomplices, and Saviors – which is taken from this article.
Saviors make the mistake of putting themselves in the center of the conversation.
Allies provide quiet support.
Accomplices provide vocal advocacy – and are willing to pay the price for doing so.
This is a nice framework that reminds me that – when I engage issues of Diversity, Equity, and Inclusion (DEI) – this is not about me.  I want to be careful to not fall into a Savior mentality.
And I want to look for ways I can be an Ally and Accomplice.  If you feel the same way, here are some suggestions that I have been working to follow:
*Start where you are.  Investigate and learn what is happening regarding DEI in your world – your workplace, your community, your children's school, or your place of worship.
*Reach out.  Once informed, contact people in your world who are working on DEI issues and offer your active involvement.
*Show up.  There are likely opportunities for you to attend programs and activities connected to DEI initiatives.  Just showing up is a good first step.  At one of these programs I attended, a young African-American woman said to me: "It is great that you are here.  As an older, white guy you really don't have to get involved with this if you don't want to."  ("Thanks and 'ouch,'" I thought.)
*Speak up.  Maybe you see something that needs to change or something that is clearly very wrong.  Use your voice.  This is where you start making the transition from Ally to Accomplice.  Check out this blog for some suggestions on giving Voice to your Values.
Finally, be persistent.  Keep reading and learning.  Keep reaching out, showing up, and speaking up.  The journey for Justice is a long one.  But there are many other Allies and Accomplices who will support you on the way.