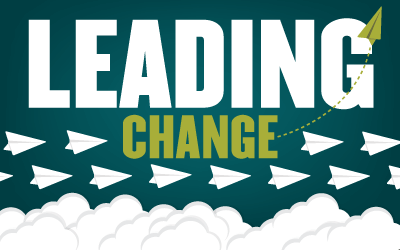 Leading a change is among the most challenging tasks executives take on.
Change management guru, Dr. John Kotter, says that 70% of change efforts fail.  Sometimes I wonder if the actual numbers are even higher.
There are many changes you might like to lead – a change in culture, staff structure, new products and services, maybe a new financial model.  But inertia and resistance can foil the best of efforts.
Here are six ideas based on a recent Harvard Business Review article to give you insights to make your change effort more successful:
1.  Own the Change.  Look in the mirror and imagine how much of your effort it is going to take to make the change successful.  Then multiply that by ten.  If you are not willing to put in that much effort, then don't even start.
2.  Develop a Culture of Trust.  If you do not have this, then you will probably not be very successful.  You may need to delay your change effort until you and your leadership team have developed trust throughout the organization.  Check out this blog on the book, The Five Dysfunctions of a Team for ideas.
3.  Broadly Involve Stakeholders to Create Vision.  Don't try to "sell" what is "your" vision.  Involved others and co-create a future that includes and inspires people throughout your enterprise.  If you truly listen to people, then it will further enhance trust.
4.  Balance Execution and Innovation.  If you are trying something new then you will inevitably try things that do not work.  Be open to "pivoting" and iterating on your plans for the future.
5.  Be Aware of the Emotional Challenges of New Technology.  No matter what it is, new technology is scary for many people.  They will need time to adjust and it can be emotionally draining.  Factor this into your expectations.
6.  Create a Shared Sense of Ownership.  If you begin with shared vision, then this is a lot easier.  Always refer to the change as "our effort" and the "future we are building."  Don't take credit, but make sure that YOU own setbacks.  Its part of being a leader.
We can point to many organizations across the globe who no longer exist because they were unable to successfully change directions when the environment called for it.  Don't back away from the challenge, but do keep these ideas in mind as you move forward.
*Ideas for this blog taken from: White, A. et al "6 Key Levers of a Successful Organizational Transformation," Harvard Business Review online, May 10, 2023.