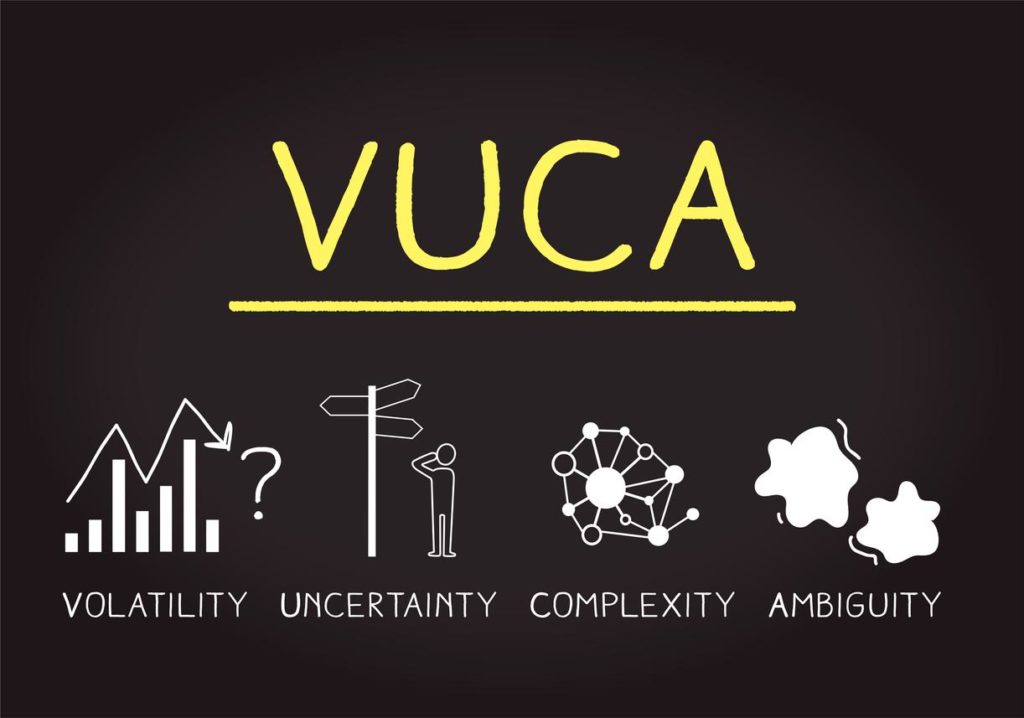 The U. S. Army invented the term "VUCA" back in the late 1980s to describe the global environment once the Soviet Union fell.
VUCA stands for Volatile, Uncertain, Complex, Ambiguous.  Many organization leaders adopted the term to describe their environments as well.
Since COVID, many people feel like we are experiencing VUCA on Steroids.  With that in mind, here are some ideas on dealing with this new, extreme VUCA environment from a recent article in Harvard Business Review.
*More Data is Not the Answer.  Ask your team to look for "exceptional information" – data that seems unusual and does not fit the norm.  This may lead to new trends.  And don't fall into the trap of Analysis Paralysis – see this blog for more.
*Use the New Science of Active Questioning.  Active Listening is good, but Active Questioning is the process of asking deeper questions beyond "Why" something happened.  Ask "What, Who, Where, When, How."  Don't accept simple explanations.
*Train Planners to be Nimble.  Practice scenario planning with a wide variety of different environments in mind.  Get crazy and have some fun with it.  The point is not to try to predict the future; we have little chance of that.  The point is to practice being ready to pivot, no matter what.
*Channel Your Anger.  The unexpected naturally triggers our fight or flight instincts.  Don't suppress your anger or fear when challenges arise – just channel it into action and use the energy.  I always feel like when I get pissed off I have moved one step closer to success.
The future will continue to be unknown and hazy.  Hopefully we will not experience anything as devastating and deadly as Covid in the years ahead.  But using some of these ideas to prepare ourselves for the inevitable VUCA curveballs that will come our way, will allow us to address them as effectively as possible.
*Ideas for this blog taken from: Fletcher, A., Gaines, T, & Loney, B.  "How to Be a Better Leader Amid Volatility, Uncertainty, Complexity, and Ambiguity,"  Harvard Business Review online, September 28, 2023.