I have been giving the same speech for about fifteen years on the importance of nonprofits setting outcome measures – both for programs and at the organizational level.  When a Board asks itself "How do we know we are making a difference?" there needs to be some kind of reliable measure that provides the answer.
Inevitably, though, when I give this "speech" someone says "But for my organization it's really hard!"  And they are right.  It is more complex for some organizations than for others.  Happily, we are seeing more tools come available to assist organizations.  For example, a few weeks back I referenced Mario Morino's new book, Leap of Reason, which is a great resource.  Ten days ago at the annual nonprofit researchers' conference (ARNOVA) I got an update on two other web-based resources that I highly recommend.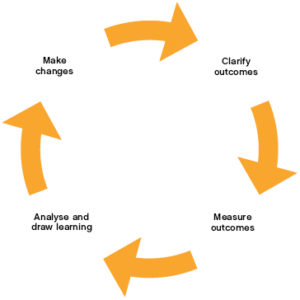 The first is a product of The Urban Institute and you can check out the beta version of it at www.oepp.org.  OEPP stands for "Outcomes & Effective Practices Portal" and its purpose is to provide "practical knowledge that nonprofit professionals can use to manage their day-to-day performance.  Information in the OEPP leverages research-based findings that have been synthesized and simplified by experts in the field.  By providing information about program outcomes, effective practices, performance indicators and measurement tools to gauge performance, the OEPP helps nonprofit practitioners to deliver more effective social programs."  The Urban Institute has been a long time leader in nonprofit research and this is a great tool that will just continue to get better when it is officially launched in March.
The next tool is from The Foundation Center, another major leader in philanthropy.  Their tool is at http://trasi.foundationcenter.org/ and is dubbed TRASI for "Tools and Resources for Assessing Social Impact."  It is "a searchable, expert-reviewed database of over 150 approaches to measuring the impact of social programs and investments. It also features a community portal for nonprofits, grantmakers, and social enterprises to connect with peers and evaluation experts."  TRASI was developed in partnership with McKinsey & Company and links to their "Learning for Social Impact" site at http://lsi.mckinsey.com/
This is great stuff.  If you have been stumped on how to develop outcome measures, then check these out ASAP.  Clarifying your outcome measures will make you more efficient and more effective in making a Mission Impact.