I have a good friend who recently posted this quote from Southwest Airlines Founder, Herb Kelleher, on Facebook:  "We Have a Strategic Plan: It's Called Doing Things."
This is funny.  But if you know anything about Herb – it is also tongue in cheek.  His brilliant strategy for Southwest has produced record-breaking profits for the airline for decades.  So, he surely has had strategy – but he is also saying that hard work is required to be successful.  I couldn't agree more.  In fact, a couple buddies and I used to call ourselves the GSD Club for "Get Stuff Done" (okay, maybe we used a different "S" word).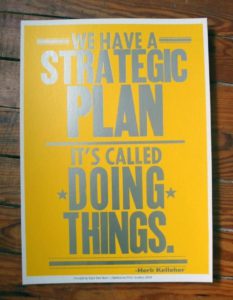 Getting Stuff Done is attractive as a mantra.  But doing stuff without a strategy about where you are going and how the stuff you are doing is going to get you there could end up being a waste of time – or worse.   As systems thinking sage, Dr. Russ Ackoff, liked to say "The righter you do the wrong thing. the wronger you become."  If you are working harder every day at the wrong strategy then you could be doing more harm than good.  You maybe would be better off staying at home.
Sometimes we get so busy with GSD that we don't stop to revisit strategy, our assumptions about our strategy, and whether changes in the environment have rendered our strategy obsolete.  When is the last time you revisited your strategy?  Maybe it is time for a check-up or even a totally new strategy development cycle.  If it has been more than five years since you established your strategy then the answer to that is almost certainly "yes."
Take some time away from focusing only on GSD and look to the future with a fresh vision, new set of goals, and a strategy for how you will get there.  This will assure that you are maximizing your Mission Impact – and that's the reason we GSD in the first place.