Which group is least successful in their work life?
"Givers" who are characterized by being helpful, compassionate, caring, and kind?
Or
"Takers" who are always looking out for what is best for themselves?
It turns out that "Givers" make up this least successful group.
And the most successful?
"Givers" as well!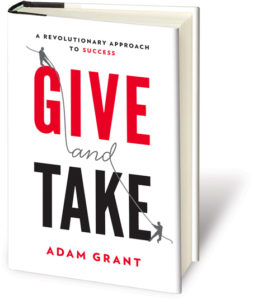 What's going on here?
It turns out that some "Givers" have learned how to leverage their helpfulness in a way that is good for others and for themselves:  win-win behaviors.  But other "Givers" are unable to protect themselves from being taken advantage of or otherwise protecting their own interests.
Dr. Adam Grant, a professor at the Wharton School of Business, reports on this in his excellent new book, Give and Take.  It is exceptionally well written with cutting edge research that is woven into colorful stories which illuminate his points.
I strongly recommend this book, especially to my nonprofit executive brothers and sisters – many of whom I know fall into this "Giver" category.  Dr. Grant has very helpful, practical advice on how "Givers" can use their natural giving tendencies to enrich their social networks, leverage their giving nature, and be even more successful.
More importantly, he gives advice on how to avoid the pitfalls of being a "Giver."  For example, in his chapter "Chump Change" he tells stories of "Givers" who have learned how to be more effective negotiators (e.g., salary negotiations!).  They have changed and are no longer chumps!  He also provides important advice on avoiding "Giver" burnout – a major challenge for nonprofit execs.  The "Giver" nature of so many nonprofit executives is a wonderful part of our culture – but not to the point that it hurts you.
Learn how to be a more effective "Giver" so you can take care of yourself while also making a Mission Impact.