Mario Morino is at it again – making contributions to the improvement of the performance of nonprofits across the sector.  His earlier contributions have included sponsoring the creation of the Organization Capacity Assessment Tool (check this blog for more) and then in 2011 it was writing the important book,  Leap of Reason (see this blog for more).  Now he has led a group of nonprofit executives, consultants, and scholars to create The Performance Imperative.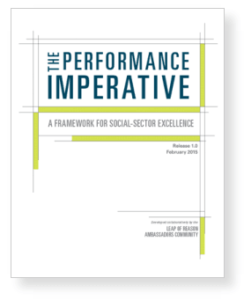 The Performance Imperative includes a definition of "high performance" and a set of "seven pillars" which, if followed, will lead a nonprofit toward high performance.  First, here is the definition of high performance:
"High performance is the ability to deliver—over a prolonged period of time—meaningful, measurable, and financially sustainable results for the people or causes the organization is in existence to serve."
And the seven pillars are:
Courageous, adaptive executive and board leadership
Disciplined, people-focused management
Well-designed and well-implemented programs and strategies
Financial health and stability
A culture that values learning
Internal monitoring for continuous improvement
External evaluation for mission effectiveness
Maybe you have your 8th pillar or another one that you would add or substitute, but you must admit that this is a very strong list.  My favorite is #1!
Is your organization on the path to high performance?  Read more about The Performance Imperative here and use the ideas to lead you to higher levels of Mission Impact.