Without reading any further (avert your eyes!), what do you think are the three most important qualities of a "team player?"  I encourage you to look away from your computer or phone and make your own list.
I wish I had made my own list before reading the newest book from Patrick Lencioni, The Ideal Team Player.  Since reading it, I am biased and am not sure what I would have come up with on my own.  Years ago, Lencioni and his team at his consulting group came up with their list – and he has turned it into a book.  Here is his list: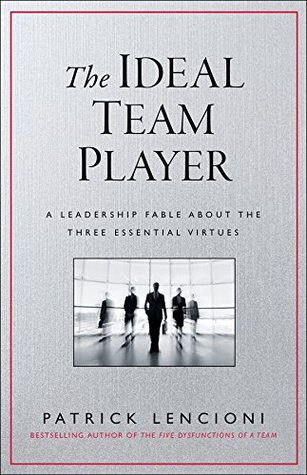 *Humble.  I think that "humble confidence" is a great trait, though I admit I may not have thought of this one.  Lencioni points out many problems that arrogant people create on a team and he thinks this is the single greatest attribute of being a team player.
*Hungry.  These are people who are "always looking for more" – more things to do, more to learn, more responsibility.  I like to think of this as "passion for mission."  These are people who are pretty much "self-managed" and I definitely appreciate having people like that on my teams.
*Smart with people.  Essentially he means people with strong Emotional Intelligence who have a good "common sense about people" – good interpersonal skills.  This covers a lot of other sub-traits and I can agree with its importance.
Honesty and Talent for their Role would be two more traits I might add.
Since we know that building trust is so important for a team, this is why I would add Honesty.
Talent for their Role is making sure people know what they are doing as far as their job goes.  You would want them to have good cognitive ability and knowledge of the industry they are working in.
Regardless of your personal list, Lencioni suggests that the most important thing is for your team to sit down and decide for yourselves what your team's list is.  Then you have something to measure yourselves by, to use in hiring, and in training.  I strongly suggest you do this.
The Ideal Team Player is an easy read and is written as a fable as is his style.  If you have some extra time on your hands you could read it, though you may be better served by re-reading his earlier book, The Five Dysfunctions of a Team, which is chock full of great teamwork ideas.  Good luck in building a team of ideal players who make a significant Mission Impact!