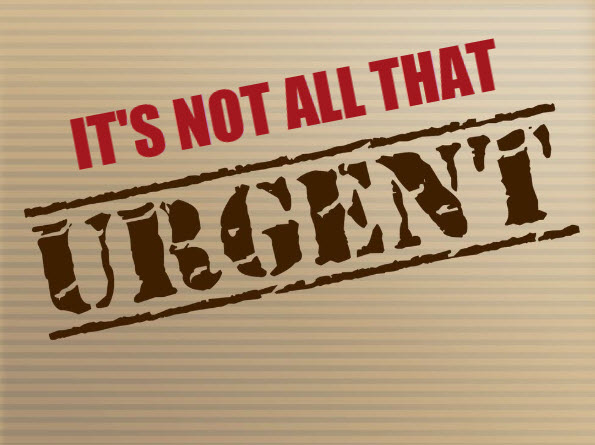 Some people and organizations are addicted to "urgency" – it gives them a rush.
It can be intoxicating indeed – "Hey everyone, the boss needs us in the conference room ASAP for an emergency meeting!"  And there you have heated discussions why someone just complained about the color you used on a recent advertising flyer – and what to do about it.
Give me a break.
Unless you work in an actual hospital emergency room or maybe the White House, you probably do not have many real emergencies.  Most of them are either manufactured or overblown.
Here are some suggestions on what to do about this "urgency epidemic," including some ideas from a recent HBR article:
*Start with No.  Be suspicious of every call to urgency.  Assume that it is not worth dropping everything for this issue.  Require the person ringing the emergency bell to make an exceptional case.
*Buffer Your Team.  If Big Bosses ring the urgency bell – and you know they will – then take one for the team.  Tell the bosses that the rest of your crew is slammed in another emergency, but you will attend their urgency party.
*Prioritize Importance, Over Urgency.  This is wisdom from Stephen Covey in his book First Things First.  The idea is that we need to prioritize our time on matters of longer term importance, rather than immediate (supposed) urgency.  Learn more in this blog.
*Beware of Urgency Personalities.  You probably know who these people are.  A colleague of mine was far behind on a project and he lamented to me that he was a victim of "the tyranny of the urgent."  It turns out, however, that he really loved it.  Being so valuable that he was called upon to work on an urgent problem had become a part of his self-image.
Just say "no" to the Tyranny of the Urgent!  Focus on what is important and save your team from endless, meaningless, fire drills.
*Ideas for this blog taken from: Smith, D.  "5 Tactics to Combat a Culture of False Urgency at Work," Harvard Business Review online, October 17, 2023.